Year 3 Revisit the Stone Age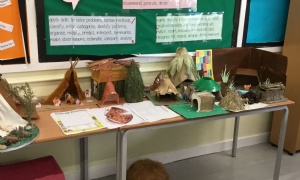 Our Year 3 children had the pleasure of hosting a Stone Age exhibition to which they invited their parents/carers.
With their adults, they had the opportunity to create Stone Age necklaces using pasta and feathers. They had fun completing a Stone Age themed word-search, colouring in Prehistoric animals, crafting a cave and playing a Stone Age board game! They had a great time showing off their magnificent art masterpieces and creative writing about the Stone Age. Thank you to all parents and carers who were able to attend the event, and we hope you enjoyed taking a step back in time to the Stone Age this afternoon with us!
For more photographs please go to our Gallery