Blue Day with Picasso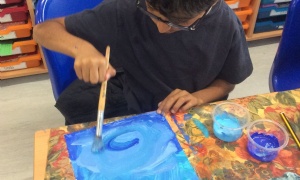 Just before Half Term, our children had the opportunity to look at the work of Pablo Picasso during a particular time in his life.
They examined how he used his feelings to create iconic art pieces in blue or varying shades of blue. The Blue Period came after tragedy in his life and our children learnt about the meaning of 'feeling blue'. The Blue day aimed at conveying a simple message that we all have our bad days and that they are an intrinsic part of being human. It is important for us to recognise our feeling of sadness and 'feeling blue' whilst knowing the ways to deal with it. Using blue as inspiration the children created artwork, writing and images around this concept. There was also the opportunity for them to learn about and listen to a variety of "Blues" music.
For photographs, please see our Gallery