Hampton Court Palace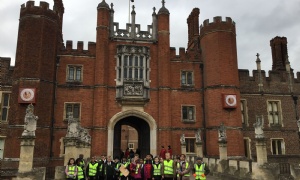 This term Year 4 have been learning about the Tudors and on Tuesday they took a trip to Hampton Court Palace down on the banks of the River Thames near Kingston.
Hampton Court was the splendid home of King Henry VIII. The children visited the kitchens where the food would have been prepared and cooked and then they passed through to the Great Hall where it would have been served. They saw a range of impressive and intimidating portraits of the royal family as well the beautiful intricate designs of the chapel and the gardens.