Girls' Football Team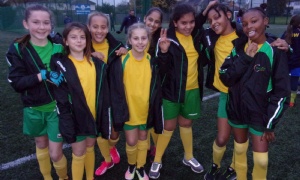 Our Girls' Football Team took part in the Hillingdon Borough Football Tournament
We played 5 games, won 4 lost 1. We beat Dr Tripletts, SSW, Laurel Lane and Highfield. We qualified top out of all the teams!
Our final was against Whiteheath. Our girls had a really good game, with plenty of chances and shots but just couldn't score. Whiteheath scored with just 10 seconds left!!
The final score was 1-0 to Whiteheath...
42 schools entered this girls competition and we are Hillingdon Borough runners up! Very proud of all the girls that came: Brooke, Lorrin, Amber, Leona, Jada, Tirana, Maria & Lexi.