Mowgli Project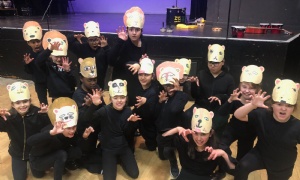 Our Year 5 children performed their self devised "Lion Piece" as part of the Hillingdon Hub "Mowgli Project" at the Winston Churchill Theatre in Ruislip.
It was a very exciting project where they had to create their own music and dance piece. This was performed along with three other local schools who shared the job narrating the story in between their pieces. In addition they had also learned two pieces by composer Jonathan Mayer which they sang en mass.
The children spent the whole day rehearsing and then performed the whole piece in the evening. It was a wonderful experience for our children. Especially for them to see how important co-operation, respect and determination is when building a show such as this.