Roman Day for Year 5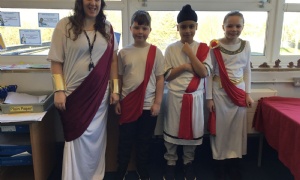 Our Year 5 children spent Monday dressed as Romans for their Roman Day.
They enjoyed a performance from a theatre company of the lives of Romans and the Scottish tribes. They took part in workshops where they created freeze frames and acted as Romans in battle. They also performed as different characters for the Roman period such as Boudicca.
Please see our Gallery for photographs