Hampton Court with Year 4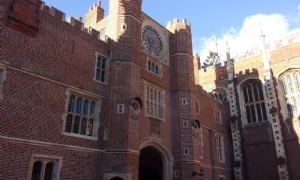 On Tuesday, Year 4 had a fantastic day at Hampton Court.
Whilst visiting the kitchens, the children were amazed by the amount of food that would have been prepared for Henry VIII and his guests. We were also able to visit the Great Hall and the beautiful gardens. As we walked around the grounds, we were entertained by actors and we even had the opportunity to see some Tudor dancing.
During our tour of the Royal Chapel, the children admired the gilded ceiling and were excited to see a replica of Henry VIII's crown.
The children were respectful to other visitors as we moved around the grounds demonstrating our school values .
Please visit our gallery for more photographs