Confusing of the Guard at Charville Academy!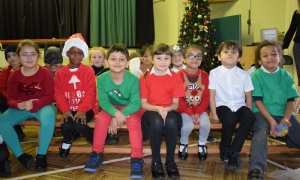 Year 2 have worked very hard on their performance of The Confusing of the Guard.
The story revolves around Bob, a toy soldier, who gets very confused about his role as a toy guard and decides to go off to see the real Queen so he can protect her!
The Elves in Santa's workshop get very worried about Bob being missing and enlist the help of the other toys to find him.
Constable Anir, his officers and his trusty steed are soon on the case and take us all on an exciting musical adventure, before a sheepish Bob is eventually found.
We hope you enjoyed the show as much as the children have loved putting it together.
Please visit our gallery for more photos