Winter Wonderland at Charville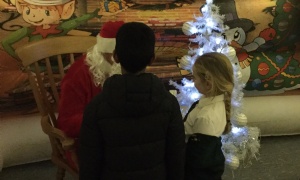 Our annual Winter Wonderland extravaganza was a huge success!
There were a range of stalls offering different Christmas activities to make, games to play and items to buy.
Of course Santa was resident in his grotto handing out presents and the choir entertained us magnificently with Christmas songs.The event culminated in the drawing of the much anticipated PTA raffle where Danielle from Year 6 was the very lucky winner of the Ipad!
A huge thanks goes to all the parents/carers and children who attended and to all of the staff and PTA who enabled it to happen. A final total of money raised will be announced shortly.
Please visit our Gallery for more photographs