The Wall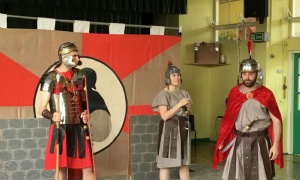 Last Thursday we welcomed the Hobgoblin Theatre Company into school.
They put on a fantastic interactive performance for the Year 3 children to support with their learning on their topic of the ancient Romans. The children watched the dramatic presentation and then had the wonderful opportunity to participate in the drama workshop, where their acting and performing skills were put to the test.
The children were impeccably behaved and thoroughly enjoyed the experience, which they will use to support them in future learning opportunities in class. Thank you to all the parents/carers who were able to join the children during the afternoon to share in their learning working through some Roman inspired activities.
Please see our Gallery for photographs