'Christmas Eve in the Toy Shop'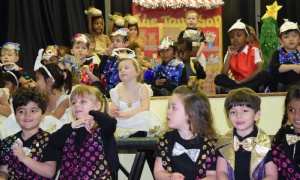 Reception had their performances on Monday and Tuesday of this week.
The play was called 'Christmas Eve in the Toy Shop'. The children who narrated the story had lots of lines to learn and spoke clearly and confidently. We had many different characters with a variety of costumes that the Teaching Assistants organised and made themselves. The angels danced beautifully and sang sweetly with our brilliant soloist Poppy-Mae from Giraffe class. All the children were fantastic and have worked very hard to perform to such a high standard. Many thanks to all the support from the parents/carers for providing costumes and coming to watch our lovely Christmas show.
Please visit our gallery for more photographs