Year 3 at Christmas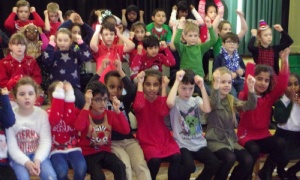 On Monday 18th December 2017 Charville Academy opened its doors for the Year 3's Christmas Carol Concert.
The concert included joyful renditions of Christmas music, some arranged especially for the occassion by Mrs Aitken, our Music specialist teacher, as well as some traditional Carols.
The Christmas readings and carols were delivered by the pupils of Celtic and Tudor classes and it was a wonderfully festive morning enjoyed by parents, children and staff.
Some highlights of the concert were the vocal group who performed a beautiful arrangement of "All I want for Christmas..." by Mariah Carey.
Thank you to all who attended and well done to all our very talented performers.
Please see our Gallery for more photographs