Charville Academy Choir at the O2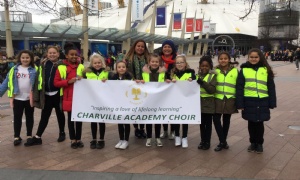 On Friday night Charville Academy Choir sang at the O2 Arena as part of the Young Voices Initiative.
They sang along with 7500 children from schools across London and sounded incredible. The theme was "togetherness" and they learned 17 songs including 4 medleys, TV theme tunes, a Pop, Stevie Wonder and classical composer inspired piece. Natalie Williams made a guest appearance and the children sand "Anytime You Need A Friend" and "Extraordinary" with her. School of Rock made an appearance with " You're In The Band" and "Africa" by Toto was another highlight amongst others. It was a wonderful day and an experience the children will never forget.
Please see our Gallery for more photographs