Showcase Choir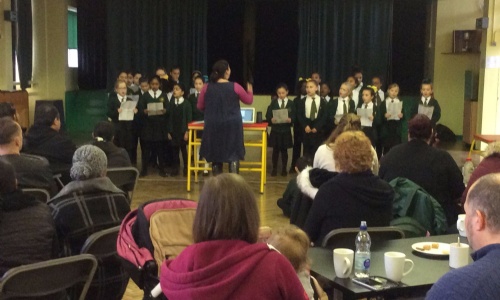 At this week's Coffee Morning, parents and staff were treated to performances by our Vocal Pupils and Showcase Choir.
The Years 2 and 3 groups performed 'The Elephant Song' and were then joined by the Years 3 and 4 group with a performance of' I am Sailing'. This was followed by the Years 3 and 4 groups performing 'Time To Play' from 'The School of Rock.'
The Year 6 Vocal Pupils gave a great rendition of 'Kill 'em With Kindness' and the morning was finished off with a medley called 'Pop Goes The Classics' which is one of the pieces they are preparing for the Young Voices event at the O2 performance in February.
The Showcase Choir and Vocal Pupils did a fantastic job and will be in great demand over the Christmas period when they make guest appearances at our various Carol Concerts, Winter Wonderland, the Public Library, Community Centre and St Anselm's church.
It was a fantastic start to a busy month!