We Walk for Water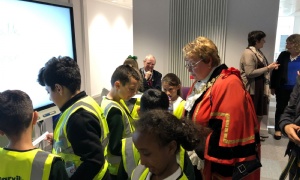 On Friday, 12 representatives from year 3, 4 and 5 went to Brunel University to learn about the We Walk for Water fundraising campaign.
The children discovered some staggering information about people who don't have access to water- something we take for granted every day. There are approximately 783 million people in the world who don't have access to clean water, that's 20% of the entire population. It only takes £15 to provide clean water to one person for life and we hope to change as many lives as possible.
There will be a mufti day on Thursday 3rd May to raise funds for the cause. Please send your child in their own clothes with £1 to contribute to this worthy cause.