Great Fire of London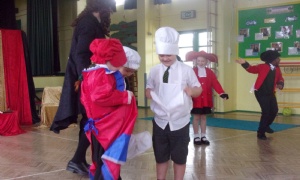 Today the children of Year 1 had the opportunity to participate in a workshop all about 'The Great Fire of London'.
The children are currently looking at this topic in both their English and Topic lessons. The workshop acts like a show which gives them all the important information about how the fire started and how the people tried to put it out. The children are able to participate in the show whether they are a character, within the story, or singing the song to help the actors put the fire out. The children thoroughly enjoyed this workshop and learnt lots about The Great Fire.
Please see our Gallery for more photographs