Charville's Birthday & World Cup Excitement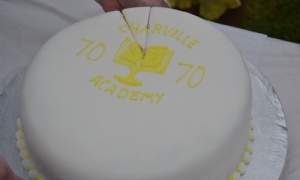 Thursday began with a parade and a sporting celebration to mark the start of the World Cup and our celebration of Charville Academy's opening in 1948.
The whole school sang some football songs and the children showed off their footballing skills with a display of ball control. Then every year group took part in the parade marking other significant events or people from 1948: from the establishment of the NHS, the creation of British Rail to the austerity Olympics which were held in London and which had borough connections. After the excitement of the parade everyone sang the school's birthday song and Mrs Kelly cut the celebration cake with 2 children who had their birthdays on the day too.
For the rest of the day the children enjoyed a whole host of entertainers and a picnic lunch. After school a group of parents brought in food from around the world to celebrate the diversity of our school and our community.
Please see our Gallery for photographs