Reception Sports Day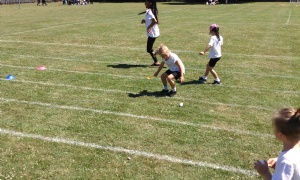 Last Monday, Reception children took part in Sports Day – the weather was fantastic.
The children took part in 7 different events including the traditional egg and spoon race and a dressing up race. They especially loved collecting stickers every time they won a race. Each child was rewarded with a certificate by Mrs Kelly before enjoying a much deserved ice pop! A big thank you for all the adults involved as well as the group of year 6 students who supervised each race. A special thank you to all the parents/carers, grandparents, aunties and uncles who came along to show their support.